Associate Investigators
Prof. Dr. Nora Vögtle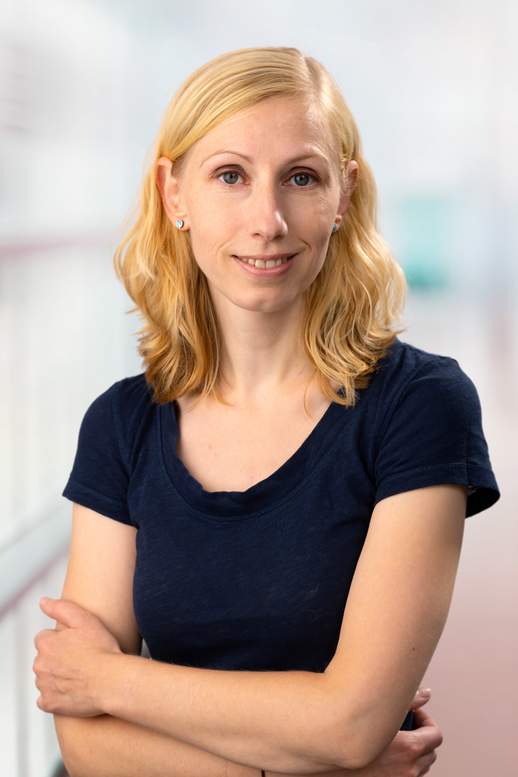 Our group is interested in mitochondrial proteases and their role in quality control and mitochondrial proteostasis. In particular, we are aiming to understand the function of presequence proteases that are important for maturation of the majority of all mitochondrial proteins. Defects in protein maturation trigger a protective stress response by mitochondria-to-nucleus communication that adapts the mitochondrial proteome by changes in nuclear transcription. Mutations in the presequence proteases have been identified in patients and result in severe neurodegeneration and cardiomyopathies. We are using different model organisms (yeast, cell lines, mouse models) and cell biological and biochemical techniques to analyze mitochondrial functions and signaling between mitochondria and the rest of the cell in vivo and in organello. By this we want to understand the physiological functions of presequence proteases and identify the pathomechanisms that result in human diseases.
Keywords
mitochondria, stress response, mitochondria-to-nucleus communication, mitochondrial diseases, proteases, proteostasis
---
Marie Sklodowska Curie
Nothing in life is to be feared, it is only to be understood. Now is the time to understand more, so that we may fear less
---
10 selected publications
Increased mitochondrial protein import and cardiolipin remodelling upon early mtUPR.
Poveda-Huertes D, Taskin AA, Dhaouadi I, Myketin L, Marada A, Habernig L, Büttner S, Vögtle FN (2021).
PLoS Genet. 17(7):e1009664.
Global kinome profiling reveals DYRK1A as critical activator of the human mitochondrial import machinery.
Walter C, Marada A, Suhm T, Ernsberger R, Muders V, Kücükköse C, Sánchez-Martín P, Hu Z, Aich A, Loroch S, Solari FA, Poveda-Huertes D, Schwierzok A, Pommerening H, Matic S, Brix J, Sickmann A, Kraft C, Dengjel J, Dennerlein S, Brummer T, Vögtle FN, Meisinger C (2021).
Nat Commun. 12(1):4284.
Functional coupling of presequence processing and degradation in human mitochondria.
Kücükköse C, Taskin AA, Marada A, Brummer T, Dennerlein S, Vögtle FN.
FEBS J. 288(2):600-613.
An early mtUPR: Redistribution of the nuclear transcription factor Rox1 to Mmitochondria protects against intramitochondrial proteotoxic aggregates.
Poveda-Huertes D, Matic S, Marada A, Habernig L, Licheva M, Myketin L, Gilsbach R, Tosal-Castano S, Papinski D, Mulica P, Kretz O, Kücükköse C, Taskin AA, Hein L, Kraft C, Büttner S, Meisinger C, Vögtle FN (2020).
Mol Cell. 77(1):180-188
Mutations in PMPCB Encoding the Catalytic Subunit of the Mitochondrial Presequence Protease Cause Neurodegeneration in Early Childhood.
Vögtle FN, Brändl B, Larson A, Pendziwiat M, Friederich MW, White SM, Basinger A, Kücükköse C, Muhle H, Jähn JA, Keminer O, Helbig KL, Delto CF, Myketin L, Mossmann D, Burger N, Miyake N, Burnett A, van Baalen A, Lovell MA, Matsumoto N, Walsh M, Yu HC, Shinde DN, Stephani U, Van Hove JLK, Müller FJ, Helbig I (2018).
Am J Hum Genet. 102(4):557-573.
Landscape of submitochondrial protein distribution.
Vögtle FN, Burkhart JM, Gonczarowska-Jorge H, Kücükköse C, Taskin AA, Kopczynski D, Ahrends R, Mossmann D, Sickmann A, Zahedi RP, Meisinger C (2017).
Nat Commun. 8(1):290.
MIPEP recessive variants cause a syndrome of left ventricular non-compaction, hypotonia, and infantile death.
Eldomery MK, Akdemir ZC, Vögtle FN, Charng WL, Mulica P, Rosenfeld JA, Gambin T, Gu S, Burrage LC, Al Shamsi A, Penney S, Jhangiani SN, Zimmerman HH, Muzny DM, Wang X, Tang J, Medikonda R, Ramachandran PV, Wong LJ, Boerwinkle E, Gibbs RA, Eng CM, Lalani SR, Hertecant J, Rodenburg RJ, Abdul-Rahman OA, Yang Y, Xia F, Wang MC, Lupski JR, Meisinger C, Sutton VR (2016).
Genome Med. 8(1):106.
The fusogenic lipid phosphatidic acid promotes the biogenesis of mitochondrial outer membrane protein Ugo1.
Vögtle FN, Keller M, Taskin AA, Horvath SE, Guan XL, Prinz C, Opalińska M, Zorzin C, van der Laan M, Wenk MR, Schubert R, Wiedemann N, Holzer M, Meisinger C (2015).
J Cell Biol. 2015 Sep 14;210(6):951-60.
Amyloid-β peptide induces mitochondrial dysfunction by inhibition of preprotein maturation.
Mossmann D, Vögtle FN, Taskin AA, Teixeira PF, Ring J, Burkhart JM, Burger N, Pinho CM, Tadic J, Loreth D, Graff C, Metzger F, Sickmann A, Kretz O, Wiedemann N, Zahedi RP, Madeo F, Glaser E, Meisinger C (2014).
Cell Metab. 20(4):662-9.
Global analysis of the mitochondrial N-proteome identifies a processing peptidase critical for protein stability.
Vögtle FN, Wortelkamp S, Zahedi RP, Becker D, Leidhold C, Gevaert K, Kellermann J, Voos W, Sickmann A, Pfanner N, Meisinger C (2009).
Cell. 139(2):428-39.