Associate Investigators
Prof. Dr. Stephan Ehl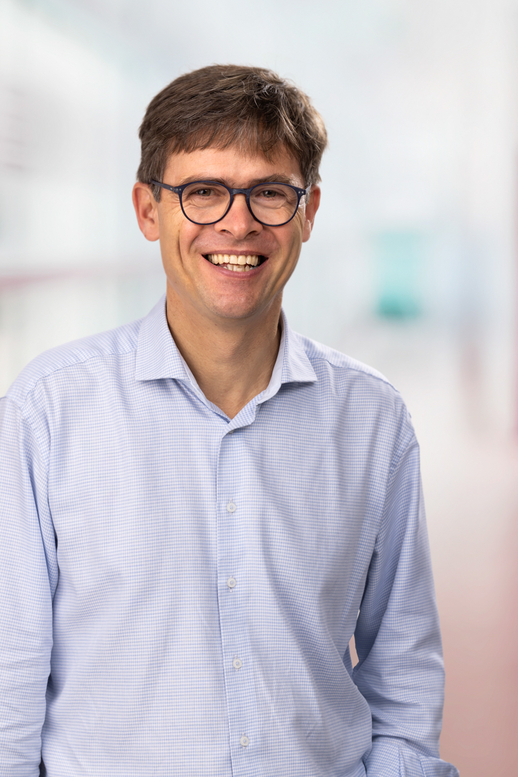 Contact
Prof. Dr. Stephan Ehl
Centre for Chronic Immunodeficiency
University Medical Center, Faculty of Medicine
T +49 761 270 77550
stephan.ehl(at)uniklinik-freiburg.de
Further Information
Genetic diseases provide a fascinating window to understand human T cell immunity and its relevance for the control of infectious diseases and immune homeostasis. Our group works at the interface between clinical and basic immunology and integrates both physicians and basic scientists. Our translational research activities start with observations in patients with genetic alterations affecting T cell development and function. Molecular and functional analysis of T cells from these patients help to uncover the relevance of these genes for immune function. Cellular and animal models are used to better understand disease pathogenesis and to evaluate novel treatment options.
We study three immunodeficiency states representing models for different aspects of human T cell immunity:
Combined immunodeficiencies (CID), caused by genetic defects affecting T cell development and activation. We focus on defects allowing residual T cell development to define the minimum level T cell immunity required for a healthy life.
Autoimmune-lymphoproliferative primary immunodeficiencies (AL-PID), most frequently caused by signalling defects in the Fas and JAK/STAT pathways. We use these diseases to understand the molecular and metabolic control of T cell homeostasis.
Hemophagocytic lymphohistiocytosis (HLH), caused by genetic defects of lymphocyte cytotoxicity. We study the molecular regulation of T cell cytotoxicity and the inflammatory consequences of its failure.
Keywords
T cells, T cell activation, T cell homeostasis, human, immunodeficiency, JAK/STAT, FAS, cytotoxicity
---
Our patients guide us to ask the relevant biological questions and this motivates us to use insights gained through the study of their diseases for development of novel tools for diagnosis and therapy
---
10 selected publications:
Rubella vaccine-induced granulomas are a novel phenotype with incomplete penetrance of genetic defects in cytotoxicity.
Groß M, Speckmann C, May A, Gajardo-Carrasco T, Wustrau K, Maier SL, Panning M, Huzly D, Agaimy A, Bryceson YT, Choo S, Chow CW, Dückers G, Fasth A, Fraitag S, Gräwe K, Haxelmans S, Holzinger D, Hudowenz O, Hübschen J, Khurana C, Kienle K, Klifa R, Korn K, Kutzner H, Lämmermann T, Ledig S, Lipsker D, Meeths M, Naumann-Bartsch N, Rascon J, Schänzer A, Seidl M, Tesi B, Vauloup-Fellous C, Vollmer-Kary B, Warnatz K, Wehr C, Neven B, Vargas P, Sepulveda FE, Lehmberg K, Schmitt-Gräff A, Ehl S (2021).
J Allergy Clin Immunol. 149:388-399.
A distinct CD38+CD45RA+ population of CD4+, CD8+, and double-negative T cells is controlled by FAS.
Maccari ME, Fuchs S, Kury P, Andrieux G, Völkl S, Bengsch B, Lorenz MR, Heeg M, Rohr J, Jägle S, Castro CN, Groß M, Warthorst U, König C, Fuchs I, Speckmann C, Thalhammer J, Kapp FG, Seidel MG, Dückers G, Schönberger S, Schütz C, Führer M, Kobbe R, Holzinger D, Klemann C, Smisek P, Owens S, Horneff G, Kolb R, Naumann-Bartsch N, Miano M, Staniek J, Rizzi M, Kalina T, Schneider P, Erxleben A, Backofen R, Ekici A, Niemeyer CM, Warnatz K, Grimbacher B, Eibel H, Mackensen A, Frei AP, Schwarz K, Boerries M, Ehl S*, Rensing-Ehl A* (2021).
J Exp Med. 218:e2019219.
NCKAP1L defects lead to a novel syndrome combining immunodeficiency, lymphoproliferation, and hyperinflammation.
Castro CN, Rosenzwajg M, Carapito R, Shahrooei M, Konantz M, Khan A, Miao Z, Groß M, Tranchant T, Radosavljevic M, Paul N, Stemmelen T, Pitoiset F, Hirschler A, Nespola B, Molitor A, Rolli V, Pichot A, Faletti LE, Rinaldi B, Friant S, Mednikov M, Karauzum H, Aman MJ, Carapito C, Lengerke C, Ziaee V, Eyaid W, Ehl S*, Alroqi F*, Parvaneh N*, Bahram S* (2020).
J Exp Med. 217:e20192275
Long-term robustness of a T-cell system emerging from somatic rescue of a genetic block in T-cell development.
Kury P, Führer M, Fuchs S, Lorenz MR, Giorgetti OB, Bakhtiar S, Frei AP, Fisch P, Boehm T, Schwarz K, Speckmann C, Ehl S (2020).
EBioMedicine 59:102961
Mutations in AP3D1 associated with immunodeficiency and seizures define a new type of Hermansky-Pudlak syndrome.
Ammann S, Schulz A, Krägeloh-Mann I, Dieckmann NM, Niethammer K, Fuchs S, Eckl KM, Plank R, Werner R, Altmüller J, Thiele H, Nürnberg P, Bank J, Strauss A, von Bernuth H, Zur Stadt U, Grieve S, Griffiths GM, Lehmberg K, Hennies HC Ehl S (2016).
Blood 127:997-1006
Omenn syndrome associated with a functional reversion due to a somatic second-site mutation in CARD11 deficiency.
Fuchs S, Rensing-Ehl A, Pannicke U, Lorenz MR, Fisch P, Jeelall Y, Rohr J, Speckmann C, Vraetz T, Farmand S, Schmitt-Graeff A, Krüger M, Strahm B, Henneke P, Enders A, Horikawa K, Goodnow C, Schwarz K and Ehl S (2015).
Blood. 126:1658-69.
Early-onset Evans syndrome, immunodeficiency, and premature immunosenescence associated with tripeptidyl-peptidase II deficiency.
Stepensky P, Rensing-Ehl A, Gather R, Revel-Vilk S, Fischer U, Nabhani S, Beier F, Brümmendorf TH, Fuchs S, Zenke S, Firat E, Pessach VM, Borkhardt A, Rakhmanov M, Keller B, Warnatz K, Eibel H, Niedermann G, Elpeleg O, Ehl S (2015).
2015. Blood. 125:753-61
Abnormally differentiated CD4+ or CD8+ T cells with phenotypic and genetic features of double negative T cells in human Fas deficiency.
Rensing-Ehl A, Völkl S, Speckmann C, Lorenz MR, Ritter J, Janda A, Abinun M, Pircher H, Bengsch B, Thimme R, Fuchs I, Ammann S, Allgäuer A, Kentouche K, Cant A, Hambleton S, Bettoni da Cunha C, Huetker S, Kühnle I, Pekrun A, Seidel MG, Hummel M, Mackensen A, Schwarz K, Ehl S (2014).
Blood. 124(6):851-60.
Deficiency of innate and acquired immunity caused by an IKBKB mutation.
Pannicke U, Baumann B, Fuchs S, Henneke P, Rensing-Ehl A, Rizzi M, Janda A, Hese K, Schlesier M, Holzmann K, Borte S, Laux C, Rump EM, Rosenberg A, Zelinski T, Schrezenmeier H, Wirth T, Ehl S, Schroeder ML, Schwarz K (2013).
N Engl J Med. 2013 Dec 26;369(26):2504-14.
ORAI1-mediated calcium influx is required for human cytotoxic lymphocyte degranulation and target cell lysis.
Maul-Pavicic A, Chiang SC, Rensing-Ehl A, Jessen B, Fauriat C, Wood SM, Sjöqvist S, Hufnagel M, Schulze I, Bass T, Schamel WW, Fuchs S, Pircher H, McCarl CA, Mikoshiba K, Schwarz K, Feske S, Bryceson YT, Ehl S (2011).
Proc Natl Acad Sci U S A. 108(8):3324-9.