Associate Investigators
Prof. Dr. Thorsten Hugel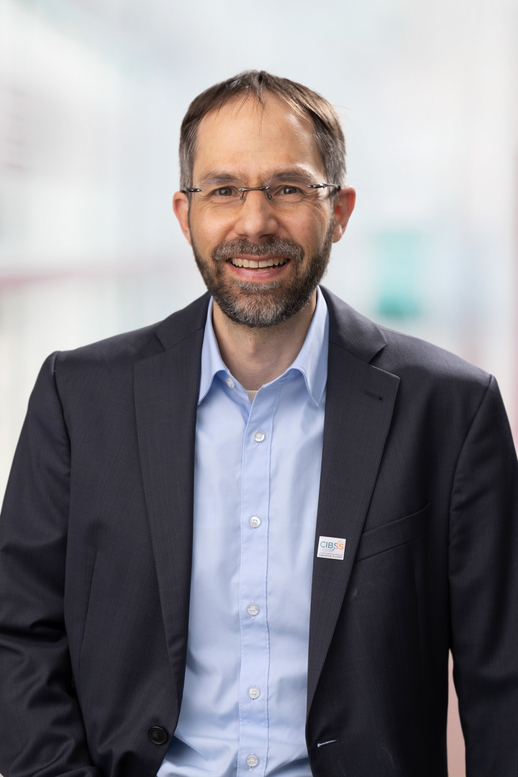 Single molecule methods are essential for gaining a thorough understanding of complex biological processes. This approach allows real time observation of signalling processes and of molecular machines at work. We use a variety of methods based on single molecule fluorescence and Förster Resonance Energy Transfer (FRET) to address dynamics on a wide timescale from less than a microsecond to several minutes. This is necessary for example for understanding how binding of small molecules (performed in less than a millisecond) can result in large conformational changes (taking up to seconds) and finally to regulation of protein expression levels in a cell.
The multidisciplinary nature of our research requires close collaboration with many colleagues in the fields of biology, biochemistry, medicine, biotechnology and physics.
Keywords:
Fluorescence, FRET, Single Molecule, Signalling, Molecular Machines, Hsp90, Conformational Dynamics
---
How can a protein system be more than the sum of its components? I am convinced that such systems have to be dynamic and out of thermodynamic equilibrium. Single molecule FRET is ideal to study such systems.
---
10 selected publications:
Nanosecond structural dynamics of the chaperone Hsp90
Sohmen B, Beck C, Seydel T, Hoffmann I, Hermann B, Nüesch M, Grimaldo M, Schreiber F, Wolf S, Roosen-RungeF, Hugel T (2021)
arXiv, arxiv.org/abs/2110.10483.
Hierarchical dynamics in allostery following ATP hydrolysis monitored by single molecule FRET measurements and MD simulations.
Wolf S, Sohmen B, Hellenkamp B, Thurn J, Stock G, Hugel T (2021).
Chem Sci. 12(9):3350-3359.
Controlling protein function by fine-tuning conformational flexibility.
Schmid S, Hugel T (2020).
Elife. 9:e57180.
Conformational dynamics of a single protein monitored for 24 h at video rate.
Ye W, Götz M, Celiksoy S, Tüting L, Ratzke C, Prasad J, Ricken J, Wegner S V, Ahijado-Guzmán R, Hugel T* and Sönnichsen C* (2018).
Nanoletters. 18(10):6633-6637
Precision and accuracy of single-molecule FRET measurements—a multi-laboratory benchmark study.
Hellenkamp B, Schmid S, et int., Hugel T (2018).
Nat Methods. 15, 669.
Multidomain structure and correlated dynamics determined by self-consistent FRET networks.
Hellenkamp B, Wortmann P, Kandzia F, Zacharias M, Hugel T (2017).
Nat Methods. 14(2):174-180.
Folding and assembly of the large molecular machine Hsp90 studied in single-molecule experiments.
Jahn M, Buchner J, Hugel T, Rief M (2016).
Proc Natl Acad Sci U S A. 113(5):1232-7.
Four-colour FRET reveals directionality in the Hsp90 multicomponent machinery.
Ratzke C, Hellenkamp B, Hugel T (2014).
Nat Commun. 5:4192.
Heat shock protein 90's mechanochemical cycle is dominated by thermal fluctuations.
Ratzke C, Berkemeier F, Hugel T (2012).
Proc Natl Acad Sci U S A. 109(1):161-6
The large conformational changes of Hsp90 are only weakly coupled to ATP hydrolysis.
Mickler M, Hessling M, Ratzke C, Buchner J, Hugel T (2009).
Nat Struct Mol Biol.16(3):281-6.